in-store service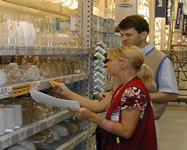 We believe that all products have different and specific service needs. That is why we work with the manufacturers and retailers to customize our programs to best meet the needs of the category / products.
We start with the development of call procedures and merchandising standards. The next steps include the identification of promotional and cross merchandising opportunities, product knowledge training requirements, and merchandise return policies. This is all taken into account when determining what the call duration and frequencies should be to conduct a successful service program.
The real value and measure of any productive service program is derived through prompt and timely communication and reporting to and from the field. We achieve this objective through our web based reporting system. This system offers real time call tracking and reporting. The information collected is available 24/7 via our secure web site providing unequalled integrity and verifiable results.
Our nationwide network of Service Representatives are responsible for execution of sales programs, promotion, and marketing plans at store level. They assist with:
· In-Store Service
· Routine Maintenance
· Plan-o-gram Integrity
· Inventory Control
· POP – Merchandising
· Product Training Classes
· New Product Cut-ins
· Seasonal Promotions
· In-Store Training
· Store Surveys
· Call Reports
· Product Demonstrations
· Competitive Surveys
We are able to successfully impact these areas through consistent call cycles and our quick response capabilities.